Collaboration
If you are a non-profit organization, contact us to collaborate with us: organize an exhibition, workshop or a project with IAPMA.
IAPMA Bulletin
Share information about your artwork or institution in our IAPMA Bulletin. Receive the annual printed publication in your mailbox.
IAPMA Congress
Be the first to know: receive advance notice for the biennial IAPMA Congress.
IAPMA Exhibitions
Participate in international IAPMA exhibitions and connect with other artists worldwide.
IAPMA Newsletter
Share your artwork or institution in our bi-monthly IAPMA Newsletter. Receive it in your inbox or download from this website.
Membership List
Access the membership list and develop contacts with our members all around the world.
Networking
Benefit from information and helpful tips for artists shared in our community and use our message board for networking with other members.
Open Calls
Gain access to open calls collected and reviewed by us - focussed on Paper Art, Book Art, Fibre Art, Textile Art, Mixed Media Art.
Your Gallery Page
Present your artwork or your institution with additional information on your own gallery page on this website.
Regular Membership
---
EUR 60 /year
---
USD 70 /year
---
Student Membership
---
EUR 30 /year
---
USD 35 /year
---
Institutional Membership*
---
EUR 180 /year
---
USD 210 /year
---
* Institutional Membership includes a primary account (for membership management) and up to 3 additional accounts for members of the institution. For application please provide the data for the primary account, our treasurer will contact you for details of the 3 additional accounts.
IAPMA unites people from all around the world: artists, paper makers, scientists, conservators, historians, educators from schools and universities, museum officials and people interested in and fascinated by paper in the broadest sense.

Upon receipt of your payment you will receive a welcome letter from IAPMA. You will also have a personal password to access the Members Only section of the IAPMA website.
Each member has a 'page' which you will be able to update yourself with info and pictures for the members' gallery. You will be able to up-date your page by your own. Members also benefit from advance notice of and preferential rates for IAPMA congresses. In the Members Only section you will also find: a members list; IAPMA newsletters; a chat forum for networking and sharing information with other members; an announcement page which lists new exhibition and workshop opportunities.
Besides the information that is publicly available on the IAPMA website, you - as a member - receive additional information of interest via email sent to you by our web editor. By purchasing a membership you agree to receive additional messages to the email address provided in the registration form.

Membership begins upon receipt of payment, and ends exactly one year later.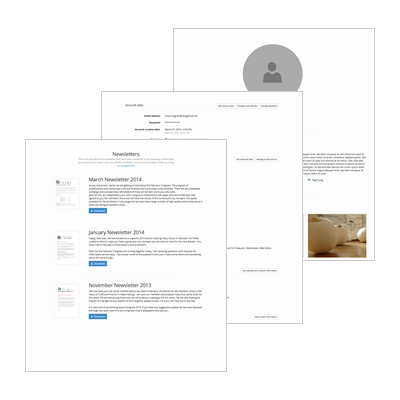 ---